Hanoi is a remarkable city in South East Asia for its rapid development and the exhilarating contrast between tranquility and bustling atmospheres. Rising in the middle of the capital city, in the midst of its milestone of the 1000th anniversary, is the Hanoi Landmark72 building. The skyscraper, standing tall at over 350 meters above ground level, held the record for the tallest building in Hanoi and Vietnam for 8 years in total. Built at a redefining moment for the city as it transformed into one of South East Asia's most highly sought-after locations, Hanoi Landmark72 quickly became an unmistakable icon of Hanoi and Vietnam.
Situated on top of this iconic building and set to transform corporate events, meetings and social celebrations is InterContinental Hanoi Landmark72. The city's tallest and latest addition to luxury hotels is packed with 359 rooms and suites, 4 signature dining venues, and one of the city's largest, dedicated Convention Centre that welcomes hundreds and thousands of business and MICE travelers since its opening in September 2017.
"Researches have shown that almost 20% of all arrivals to Vietnam did so for business purposes - which is 15% more than any other country in the region." said Robbert Manussen – the hotel's General Manager. "I consider our hotel opening at the perfect timing for this development and feel very hopeful for the future of expanding this side of the business."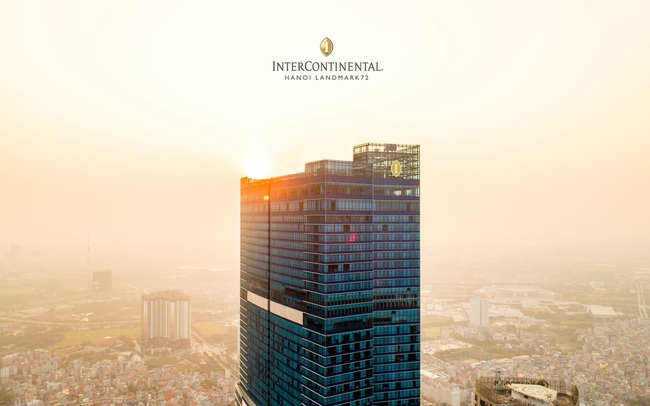 The latest luxury hotel in Hanoi with spectacular panoramic views of the city
One of Hanoi's largest convention space, the Convention Centre boasts 9 flexible meeting rooms and 1 pillar-less Grand Ballroom that hosts up to 1,000 delegates, complemented by a meeting foyer at over 1,000 square meters. Asides from mirrored wall panels and high ceilings, the pillar-less Grand Ballroom also allows for an immersive and visually impactful experience, with intelligent AV technology enhancements; coupled with expert attention to every detail by a team of dedicated catering and conference services managers.
"Indeed our Grand Ballroom has been a preferred choice for large-scale conferences, gala dinners and year-end parties, being spacious and versatile in set-ups", said Michelle Singson, Director of Sales & Marketing. "Meetings of smaller sizes can also take advantage of the same modern technology and dedicated services, while in one of our meeting rooms, which allows abundant natural light and a glimpse of the dynamic streets of Hanoi - an interesting scene for visitors to this exciting city."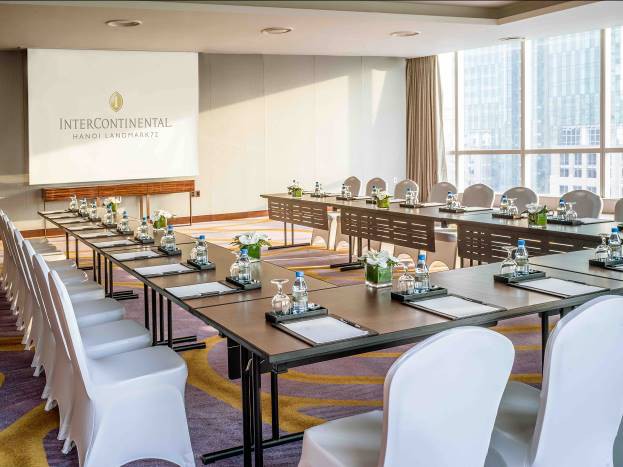 Above the facilities, InterContinental Hanoi Landmark72 also adds a confident statement to any meetings and events with a dining experience exuding luxury, creativity and personalization. "Gone are the days where meetings only require an overhead projector, but it is now about the entire experience. What we believe makes a real difference, are the food and beverages that we can bring, or customize, to any events", said Nicolas Plateau, the hotel's newly minted Head of Food and Beverage. "We also have the ability to cater to diverse food requirements, and a prime example is being the only hotel in Hanoi with Muslim chefs for certified Halal food."
The hotel is also proud to have Executive Pastry Chef Serhat Mizrakli from Turkey, whose creative and exquisite touches makes themed coffee breaks a meeting organizers' dream. Chef Serhat is also the creator behind the hotel's famous Afternoon Tea, and its cakes and pastries' collection.
Elevating culinary excellence to the next level is the experience at the 4 dynamic dining venues – a must visit for all meeting delegates at InterContinental Hanoi Landmark72. The Hive Lounge offers an inspiring spot to sit back and enjoy Hanoi's best Afternoon Tea with panoramic views.
Unforgettable lunches and dinners await on the 62nd floor, where delegates and visitors can immerse in 3 expressive open kitchens from 3 Spoons Restaurant, featuring creative dishes in the likes of "pho" noodle soup with foie gras; or add an extra touch of glamour when dining at Stellar Steakhouse with the finest dry-aged steak amidst an alluring atmosphere, or Stellar Teppanyaki where the art of Japanese grill is perfected. Lastly, cap the day with bespoke cocktails at the mystically designed Q Bar, which is an excellent venue for pre-meeting gatherings, networking events or after parties.